Search
Results
Students and New Grads
Students and New Grads
To apply for Scotiabank co-op opportunities, please visit your school's Career Services website.Looking to put your education into practice? As a Best Place to Work in multiple geographies, Scotiabank provides you with all of the resources to help make the most of your experience. If you're ready, we invite you to explore our opportunities and share your career profile with us. Learn More about our Co-op, Internships and New Grad Opportunities.
Whitecourt Jobs at Scotiabank
Co-op & Internship Opportunities
We offer a variety of Co-op and Internship opportunities across Scotiabank. These roles are a great way for you to apply knowledge you've learned in the classroom and gain relevant work experience.
In order to be eligible for our Co-op & Internship positions, you must be enrolled in a post-secondary institution with a co-op or internship element in your program.
New Graduate Opportunities
Scotiabank offers a variety of opportunities for new graduates across various career streams including, but not limited to:
Customer Service
Global Capital Markets – Sales and Trading
Information Technology
Investment Banking / Mergers and Acquisitions
Sales (i.e. Personal Banking Officer)
Additionally, we have Associate training and rotational programs catered to new graduates. These programs are a great way to gain exposure to a variety of business lines while gaining real work experience and networking with professionals in the field.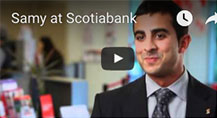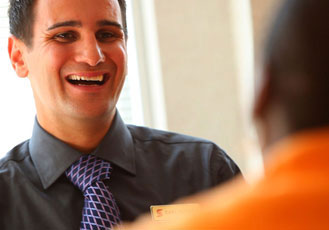 Amazing
career
stories
begin
at
Scotiabank.
Learn More