Job
Details
Information Technology Jobs
Apply Now
Sr. Java Developer
Job ID 73627
Date 04/20/2017
Toronto, Canada

Join the Global Community of Scotiabankers to help customers become financially better off. 

A Best Workplace

Scotiabank is a premier financial institution and Canada's most international bank recognized as a Best Workplace®, in Canada, Mexico, El Salvador, Costa Rica, Puerto Rico, Dominican Republic, Panama, Peru, Chile and Latin America by the Great Place to Work® Institute.

A multinational winning team
Scotiabank is Canada's international bank and a leading financial services provider in North America, Latin America, the Caribbean and Central America, and parts of Asia.  We are dedicated to helping our 21 million customers become better off through a broad range of advice, products and services, including personal and commercial banking, wealth management, corporate and investment banking.

Corporate Social Responsibility
Scotiabank helps to build bright futures worldwide through ethical banking practices, environmental awareness and a commitment to communities.
By working together, we build strong relationships and create value for our customers. Scotiabank's Information Technology and Solutions provides global technology solutions support to each of our core businesses - Domestic Banking, International Banking, Global Banking & Markets and Global Wealth & Insurance. Our technology-based solutions enable Scotiabank to achieve sustained profitable growth and a competitive advantage.
PURPOSE:
The Enterprise Identity Solutions & Technology group provides development and support services for enterprise systems/applications.
The incumbent is an advisor and technical lead of a small group of developers and/or a technical professional who must provide key design and development guidance to deliver a Customer Authentication solution which is based upon ForgeRock Identity & Access Management platform.
Must have a solid understanding of user registration and management services, web authentication solutions, Identity management and LDAP directory architecture. Must be a strong Java design and developer experience with a track record in development and deployment of REST web services, also Unix scripting, bash shell and JavaScript, to automate configuration and deployment of services to Web application servers to Dev / IST / UAT / PROD environments. Proficient in server/services configurations and deployment and run-builds with a good understanding of network firewall and load balancer configuration. Proficiency in performance monitoring, systems scalability/capacity planning is also an asset.
Must be above average in trouble-shooting and problem solving in a highly integrated multi-domain multiprocessing environment, primarily Java SDK and runtime, Linux, Oracle DB, LDAP, Apache Tomcat, REST APIs and UI but not limited to this list.
Self-starter, able to lead senior developers, work with multiple vendors and consultants, provides integration design recommendation/implementations and support and services to various applications platforms in the Back. Highly effective communications both written and verbal.
Solid understanding of standard SDLC, development techniques and best practices for an enterprise framework.
The incumbent should have at least 7 years of progressive IT experience including solid Java web application design and development from front end GUI to back end services. The individual must thrive on fast paced, challenging environment with short learning curves. Must be proactive and dynamic, and demonstrate initiative and eagerness to learn.
KEY ACCOUNTABILITIES:
Reporting to the Director, the individual will be responsible for:
1. Act as a Subject Matter Expert as well as a tech lead to a team, including contractors.
2. Participate in all aspects of a project life cycle (Requirements, Analysis, Design, Code, Test, Implementation and Production handover).
3. Create documentation including design, and operational support documents.
4. Lead design sessions and code/program design/review, utilizing technologies per "Job Summary" section above. Minimal 5 to 7 years solid development experience in these mentioned or related technologies.
4. Ensuring proper procedures, processes, and controls are in place to support the various existing production systems.
5. Ensuring in compliance with IT Technology Roadmap and SOX.
6. Production support and escalation.Provide point of escalation during the day and off-hour. Considerable effort is placed into determining, developing and provide sound and rapid judgement to production issues for recommendations on either workaround or resolutions that minimizes unplanned production outages.
7. Regularly conveying key strategies, tasks, and status to team and management.
8. Liason with bank technical areas to address application, security and network/communication issues and project coordination.
SKILLS:
Essential:
1. At least 7 years of experience developing and supporting applications.
2. Must soliod experience working on Infrastrucuture centric enterprise application platform, such as platform/systems that has an enterprise framework and integrated with various functional platforms of the organization. The integrations would be facilitated by a good undersatnding and working knowledge of the server and network configurations both for deployment and at run-time.
3. Essential experience on list of technologies and product experiences listed in the "Job Summary" section above.
4. A good knowledge of Bank's businesses and/or financial products an asset.
5. Disciplined in development methodology and software development technologies and concepts.
6. Exceptional written and oral communication skills.
7. Excellent problem solving skills have vision and innovative approach to computer based solutions and ability to convey these ideas.
8. Must be flexible to adapt to a dynamic environment, make quick and sound decisions under pressure.
9. Must be reliable, pro-active, results-oriented, customer-focused and attentive to details.
10. Must be able to think conceptually out-of-the-box.
11. Must be able to liaison with business units and vendors and bridge the gap between business and technical groups.
EDUCATIONAL REQUIREMENTS:
Computer Science / Engineering Degree or equivalent
Scotiabank is committed to providing an inclusive and accessible candidate experience. Only those candidates selected for an interview will be contacted. If you require accommodation during the recruitment and selection process, please let us know. We will work with you to meet your needs.
Apply Now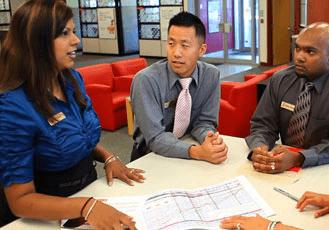 Amazing
career
stories
begin
at
Scotiabank.
Learn More