Job
Details
Retail Banking Jobs
Apply Now
Senior Manager, Pricing & Analytics
Job ID 69610
Date 03/18/2017
Toronto, Canada

Join the Global Community of Scotiabankers to help customers become financially better off. 

A Best Workplace

Scotiabank is a premier financial institution and Canada's most international bank recognized as a Best Workplace®, in Canada, Mexico, El Salvador, Costa Rica, Puerto Rico, Dominican Republic, Panama, Peru, Chile and Latin America by the Great Place to Work® Institute.

A multinational winning team
Scotiabank is Canada's international bank and a leading financial services provider in North America, Latin America, the Caribbean and Central America, and parts of Asia.  We are dedicated to helping our 21 million customers become better off through a broad range of advice, products and services, including personal and commercial banking, wealth management, corporate and investment banking.

Corporate Social Responsibility
Scotiabank helps to build bright futures worldwide through ethical banking practices, environmental awareness and a commitment to communities.
PURPOSE:
The Senior Manager, Pricing & Analytics contributes to the growth of Scotia Advisor Deposit Services by:
•Overseeing the daily management of GIC pricing, ISA pricing and make pricing recommendations as required
•Supporting with product design recommendations that will meet the requirements of Basel, Treasury etc
•Overseeing the development and management of all pricing analytics for the ADS channel
•Overseeing the preparation of regular and ad hoc MIS reports and portfolio analysis to assist ADS senior management in decision-making
•Preparing in conjunction with finance, monthly ADS statements of  revenue and expenses 
•Responsible for development of business planning & forecasting process for the portfolio
•Supporting senior management with timely portfolio management reports providing volume, margin, profitability trends, forecasting and presentations
•Overseeing the preparation of the  daily sales MIS for ADS senior management in analyzing business volumes and formulating strategy for deposits maintenance and growth
•Supervising the preparation of the daily pricing report for management
•Coordinate and support Retail Deposits Pricing, Analytics and Reporting team to provide senior management with an aligned view of Retail Deposits  
KEY ACCOUNTABILITIES:
1.Supervise pricing analytics and the creation / management of both ISA and GIC MIS reports analyzing and measuring business line and overall performance:
•Ensure data is obtained in a timely manner from a variety of sources including BNS GL downloads, Dynamic / Dundee Wealth data warehouse, other data feeds including funds transfer pricing, ("FTP") wholesale rates, competitors rates, etc in order to create the necessary daily, monthly MIS for both ISA and GIC products
•Recommend product pricing to senior management /make decision within approved band
•Analyse FTP trends, wholesale pricing and make recommendations on margin trends etc 
•Liaise constantly with Retail Deposits to align pricing strategy/framework
•Review data for reasonability and completeness; ensuring integrity of data by performing various cross-checks and balances to source data and other related reports 
•Oversee / participate in the manipulation/combining/inputting of data into spreadsheets and Access database
•Report on trend lines (e.g. ISA / GIC margins, deposit growth by source), performance versus plan
•Participate and contribute to process improvements to existing reports including identifying operational issues & procedure documentation 
•Develop/modify financial models and reports as required to support decision-making
2.Supervise the timely and actionable analyses of financial and non-financial results and trends to support the development of strategies optimizing product profitability and the Bank's competitive position by:
•Ensure the preparation and development of ad hoc reports and analyses to assess the financial effectiveness of         existing and proposed products, features, programs, campaigns, partner arrangements, etc.
•Supervise the development of evaluation models/tools that accurately forecast the impact of proposed strategies and initiatives and key drivers of the deposit business.
•Oversee the analysis of raw input from disparate sources in order to develop recommendations to support key planning assumptions such as market growth expectations, account growth, volume growth, margins and net-interest revenue
•Oversee and develop dealer / broker volume, growth, redemption trends etc
•Oversee the continual monitoring the competitive landscape to stay abreast of industry trends, be ensuring a review of the competitor websites for current deposit pricing
3.Oversee the preparation of month-end financial statements and the profit planning, forecasting, sensitivity analysis process by: 
•Ensuring the completion of monthly statement of revenue and expenses, trend analysis relative to business plan, manage the quarterly forecasting process in partnership with Retail Deposits and Canadian Banking Finance
•Prepare forecasts, mini forecasts, dashboard reports and various budgetary updates
•Perform Sensitivity analysis on the business 
•Prepare and support Stress Testing processes 
•Assisting in compiling presentations for Senior Management and Executive 
4.Maintain a high level of customer service and satisfaction Retail Deposits and ADS service standards. Collaborate with stakeholders, client groups (i.e.  Dundee Wealth, Scotia McLeod; Scotia Funds, other partners) and support teams (i.e. IT&S, Retail Deposits, Payments & Lending, Dynamic). Help foster a strong relationship with Third Party Deposit Channel partners through professional, responsive and timely communications.
5.Ad-hoc reporting, analyzes and operational support to contribute to the growth of the business.
COMPLEXITY:
To be fully competent in the position the incumbent requires:
•Excellent knowledge of financial and statistical modelling and current accounting policies to develop models and reports
•Strong understanding of  pricing methodologies, the role of Group Treasury, Basel deposit requirements and other industry regulations impacting deposit pricing 
•Excellent quantitative technical skills and Extensive knowledge of Microsoft Excel, PowerPoint and Access 
•Strong knowledge of the Third Party Channel; BNS financial and GL systems and processes
•Good understanding of the Third Party Channel deposit products and financial advisor channel  
•Strong knowledge of the use and limitations of various financial calculations (e.g. ROEE, IRR)
•Understanding of the banking sector in Canada, both the advisory channel as well as retail banking, including available products, market trends, existing and emerging players, competitive advantages and best practices
•University degree with minimum 5 years financial services experience

Behavioural skills:
•Excellent analytical skills, numerical ability, accuracy and thoroughness to develop financial models that impact strategic decisions and provide product profitability analysis
•Strong communication and interpersonal skills to develop support and cooperative relationships throughout the organization
•Customer focus; results focus to meet tight turnaround deadlines
•Strong supervisory skills
AUTHORITY:
The incumbent works independently in carrying out his/her accountabilities, within the framework of existing controls, policies and procedures. He/she receives general direction from the Director, Pricing and Portfolio Management. He/she is expected to advise the Director of all significant issues and trends along with recommendations for resolution.
DIMENSIONS:
•Deposit Base:  $ 24 billion
•Prepares on a regular basis, daily, monthly, quarterly and annual reports as well as a host of ad hoc reports, product statistical analysis and has direct involvement in leading various projects

Scotiabank is committed to providing an inclusive and accessible candidate experience. Only those candidates selected for an interview will be contacted. If you require accommodation during the recruitment and selection process, please let us know. We will work with you to meet your needs.
Apply Now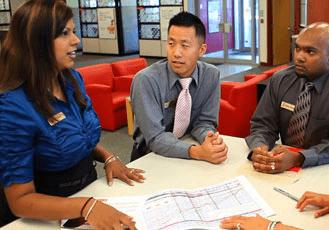 Amazing
career
stories
begin
at
Scotiabank.
Learn More