Job
Details
Digital Factory Jobs
Apply Now
Manager, Online and Mobile Banking
Job ID 69648
Date 03/10/2017
Toronto, Canada
The Digital Factory is an innovation hub with a clear and well-supported mandate to transform the way banking technology is delivered, by re-imaging the customer experience, to deliver new digital value propositions. We have the support and experience of one of the world's largest banks behind us and a talented, and growing, team of industry leaders driving us forward.
Do you want to help us reinvent how people bank? At the Scotiabank Digital Factory, we are passionate about transforming the customer experience. 

We're looking to fill our team with influencers, makers, creators and leaders who are flexible, curious, adventurous, versatile and responsive; and who are ready to roll up their sleeves in a collaborative and productive environment to get things done. 

By joining our team, you will make an impact on our customers, the banking industry, and ultimately, the world.

The position supports the design and execution of Enterprise Digital Banking's Retail online and mobile channel strategies in key markets, primarily focusing on business requirements, customer experience, business acceptance testing, channel management and operational efficiencies. This includes working closely with business colleagues, technology partners, business lines, product lines, security, compliance, operations and the country partners, to design and implement tactics that meet the Bank's Self-Service Banking Channels strategic objectives and roadmap across Mexico, Peru, Colombia, Chile and the Caribbean markets.

This role will strongly focus on a high priority, multi-million dollar online and mobile banking projects. The position requires a strong ability to manage and prioritize support for multiple initiatives and needs a high level of coordination and attention to detail. Ability to deliver results within agreed-upon deadlines will be a key factor for success.

Key Accountabilities:
1. Supports the Sr. Managers in the design and development of international online and mobile channel strategies and tactics primarily focusing on business requirements writing, enhancing the customer experience, business acceptance testing, increasing transactional capabilities, revenue generation (sales) and operational efficiencies. The incumbent accomplishes this by:
  a. Supporting the development of the online and mobile channel roadmap and the build out of new functionalities and capabilities for the channels;
  b. Developing business requirements documentation reflecting the business needs of the online/mobile channels.
  c. Supporting the estimation process of costs and benefits to the Bank for specific projects by participating in the preparation of business cases that impact the online/mobile channels, especially as related to capacity and efficiencies.
2. Supports the delivery of multi-country projects. The incumbent accomplishes this by:
  a. Implementing online and mobile channel initiatives and operational processes required for the functionalities;
  b. Working with resources from cross functional areas of the Bank as necessary.
  c. Ensuring that channel strategies and initiatives consider all customer and staff implications and needs;
  d. Identifying opportunities for Self-Service Banking and other teams to work together, leveraging on joint projects to ensure a focused delivery to international markets;
  e. Escalating issues / obstacles / trends to Sr. Managers as appropriate with recommendations/solutions.
3. Day-to-day management of the online/mobile channel with the aim of maximizing a sustained benefit from strategic initiatives. The incumbent accomplishes this by:
  a. In collaboration with Technology, continuously monitoring the online and mobile customer experience to ensure it meets customer needs, by identifying, prioritizing and resolving incidents reported by the contact centre and other first line support teams;
  b. Assuming a gate keeping role on cross-functional teams to manage the implementation of ongoing channel enhancements into the International Market place;
  c. Assist in the development and ongoing improvement of a divisional governance model including internal processes and documentation, Service Level Agreement (SLA), new products and services planning and implementation, roles and responsibilities, and incident management;
  d. Sustainment and continuous improvement of online/mobile channel programs;
  e. Ensuring customer service, operational and system problems are identified and solutions implemented by the appropriate departments;
4. People skills and leadership: 
  a. Strong team player with excellent interpersonal skills as the incumbent will need to communicate well with all members within the department;
  b. Leverage available resources in a manner that maximizes performance and productivity within the Team;
  c. Maintain open lines of communication with business lines, countries and channel partners to create awareness of trends, competitive opportunities, etc.
Functional Competencies:
- Knowledge of Online and Mobile Banking is essential, along with the ability to collaborate effectively with others. 
- Proven track record in managing small to medium size projects.  
- Sound working knowledge of technologies supporting digital banking channels - core banking, satellite systems, product basics, etc. 
- Ongoing familiarity of International Banking business and the status of global/regional trends occurring within Online and Mobile channels.  
- Proven sales and service management techniques to drive desired behaviours within the online and mobile channels. 
- Excellent communication skills and the ability to successfully engender a participative process across a culturally diverse group of internal and external business support partners and Country Heads.
- Strong initiative, forward thinking and creative problem solving skills with the ability to create or stimulate customer focused strategies.
- Expert PC/Software skills, particularly spreadsheet/presentation tools/word processors (e.g. Excel, PowerPoint, Word).
Educational Requirements:
Business and / or equivalent undergraduate degree / work experience.
Project management, channel management or financial designations would be an asset
MBA designation is considered an asset
?
If you're interested in helping us shape the future of banking, click the "Apply now" button to submit your application.  We are hiring for a variety of high impact technical roles (design/agile/full stack/devops).  If you are curious but aren't sure this role is right for you please contact us anyway - we're moving fast and looking for the best and brightest to take us to the next level.
http://www.scotiabank.com/digitalfactory/
Learn more about the Factory:
• We are growing fast and looking for team members to help us build an industry leading fintech innovation hub
• We invite and encourage collaboration with a broad range of industry disruptors and innovators
• We have the stability and resources of Scotiabank, a multinational financial institution, as well as a world class team of designers and engineers with the energy and talent of a leading startup
As Canada's international bank, we are a leader when it comes to inclusion. Scotiabankers hail from over 120 countries, speak more than 100 languages and serve over 23 million customers globally. As a highly diverse company, we know that an inclusive environment for employees and customers helps everyone achieve their best. We value the unique skills and experiences each individual brings to the bank, and are committed to creating and maintaining an inclusive and accessible environment for everyone. Candidates selected for an interview will be contacted directly.  If you require accommodation during the recruitment and selection process, please let us know. We will work with you to provide a positive recruitment experience. 
Apply Now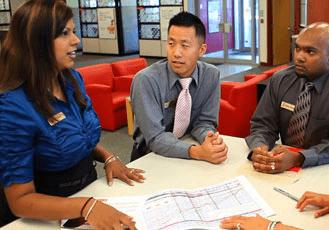 Amazing
career
stories
begin
at
Scotiabank.
Learn More