Job
Details
Information Technology Jobs
Apply Now
DevOps Specialist
Job ID 73324
Date 04/18/2017
Toronto, Canada
The Digital Factory is an innovation hub with a clear and well-supported mandate to transform the way banking technology is delivered, by re-imaging the customer experience, to deliver new digital value propositions. We have the support and experience of one of the world's largest banks behind us and a talented, and growing, team of industry leaders driving us forward.
Do you want to help us reinvent how people bank? At the Scotiabank Digital Factory, we are passionate about transforming the customer experience. 

We're looking to fill our team with influencers, makers, creators and leaders who are flexible, curious, adventurous, versatile and responsive; and who are ready to roll up their sleeves in a collaborative and productive environment to get things done. 

By joining our team, you will make an impact on our customers, the banking industry, and ultimately, the world.
Are you the right person for this role?
You are a mentor, teacher and enabler - clearing obstacles and making room for incredible work to come from the Factory

You have experience creating large scale applications – ideally building highly scalable web farms on linux platforms entirely from infrastructure as code

You measure everything and are always looking to improve engineering productivity and quality through automation

You're comfortable working closely with a team of smart, passionate people to creatively solve problems that may at first seem insurmountable

You have some familiarity with banking and compliance requirements and have strong desire to let machines fully manage them

You are an engineer but also comfortable inspiring and influencing leaders from the bank IT of a new way of shipping software through Continuous Delivery
You'll need to have:
Experience in the administration of build tools for continuous integration (e.g. GIT, Maven, Jenkins, Bamboo, and Nexus)

Ability to work with configuration and orchestration tools to automate deployment delivery such as Puppet, Chef, or Ansible 

Familiarity with container-based virtualization technology such as Docker

Fluency in scripting languages like Bash, Ruby, or Python

Experience with public cloud solutions like AWS, Azure, or Google Cloud Platform

High level Linux administration skills
It would be cool if you were also:
A strong advocate for agile technical practices and software craftsmanship

Eager to mentor, coach and share

Active in your community startup, agile and tech scene

Excited about committing a significant chunk of your daily activities to personal innovation projects with your peers

Interested in the impact fintech innovations can have on the world 
If you're interested in helping us shape the future of banking, click the "Apply now" button to submit your application.  We are hiring for a variety of high impact technical roles (design/agile/full stack/devops).  If you are curious but aren't sure this role is right for you please contact us anyway - we're moving fast and looking for the best and brightest to take us to the next level.

http://www.scotiabank.com/digitalfactory/

Learn more about the Factory:

• We are growing fast and looking for team members to help us build an industry leading fintech innovation hub
• We invite and encourage collaboration with a broad range of industry disruptors and innovators
• We have the stability and resources of Scotiabank, a multinational financial institution, as well as a world class team of designers and engineers with the energy and talent of a leading startup

As Canada's international bank, we are a leader when it comes to inclusion. Scotiabankers hail from over 120 countries, speak more than 100 languages and serve over 23 million customers globally. As a highly diverse company, we know that an inclusive environment for employees and customers helps everyone achieve their best. We value the unique skills and experiences each individual brings to the bank, and are committed to creating and maintaining an inclusive and accessible environment for everyone. Candidates selected for an interview will be contacted directly.  If you require accommodation during the recruitment and selection process, please let us know. We will work with you to provide a positive recruitment experience. 
Apply Now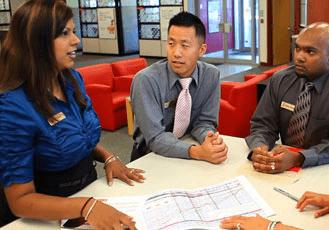 Amazing
career
stories
begin
at
Scotiabank.
Learn More