Job
Details
Information Technology Jobs
Apply Now
Business Analyst Specialist (10 Openings)
Job ID 70605
Date 03/20/2017
Toronto, Canada

Join the Global Community of Scotiabankers to help customers become financially better off. 

A Best Workplace

Scotiabank is a premier financial institution and Canada's most international bank recognized as a Best Workplace®, in Canada, Mexico, El Salvador, Costa Rica, Puerto Rico, Dominican Republic, Panama, Peru, Chile and Latin America by the Great Place to Work® Institute.

A multinational winning team
Scotiabank is Canada's international bank and a leading financial services provider in North America, Latin America, the Caribbean and Central America, and parts of Asia.  We are dedicated to helping our 21 million customers become better off through a broad range of advice, products and services, including personal and commercial banking, wealth management, corporate and investment banking.

Corporate Social Responsibility
Scotiabank helps to build bright futures worldwide through ethical banking practices, environmental awareness and a commitment to communities.
By working together, we build strong relationships and create value for our customers. Scotiabank's Information Technology and Solutions provides global technology solutions support to each of our core businesses - Domestic Banking, International Banking, Global Banking & Markets and Global Wealth & Insurance. Our technology-based solutions enable Scotiabank to achieve sustained profitable growth and a competitive advantage.
PURPOSE:
Counterparty Credit Risk technology BA group interfaces with the Global Risk Management and Front Office teams to design, implement and support the enterprise Counterparty Credit Risk (CCR) monitoring application.  The application provides the capability to measure and monitor CCR for capital markets products (OTC and SFT) using a Monte Carlo simulation approach to compute Potential Future Exposures (PFE) taking into account credit mitigation approaches such as ISDA Master Agreement and Credit Support Annex (CSA) signed between the bank and its counterparties. The application supports the computation of PFE and limit monitoring on an end of day basis as well as real time intraday. 

The incumbent is responsible for research and analysis leading to the definition of requirements and processes to assist in the resolution of complex business problems for the Global Risk Management - Counterparty Credit Risk areas. 

The incumbent is also responsible for participating in the testing of new systems or enhancements, the training of users, and providing ongoing support to users in risk management and various business lines.
KEY ACCOUNTABILITIES:
1. Assist the Senior Manager/Project Manager in resolving highly complex, multi-faceted problems to meet the needs of Global Risk Management - Counterparty Credit Risk area, by applying their financial and technological knowledge to the design of methodologies, models, and/or systems solutions. This may involve rapid prototyping, with requirements and solutions developed on an iterative basis that provides interim deliverables until a final production solution is created. This includes conducting research and analysis, accurately and clearly defining user requirements and processes, and liaising with the users. 

2. Participate in the systems implementation process by developing test cases, performing testing, defining user procedures and workflows, developing conversion and implementation strategies, verifying conversion, providing user documentation, providing user training, and providing post-implementation support.

3. Provide business support to Risk Management , including ad hoc queries and MIS, user training, and assisting with the design and implementation of systems enhancements. The incumbent is responsible for ensuring that management is kept informed and that problems and issues are escalated appropriately.

4. Continually acquire and enhance knowledge of the business strategies and policies, risk management practices and methodologies, product offerings, financial markets, financial instruments, regulatory requirements, and rapidly changing technology to be able to provide effective business solutions and services to the end user groups. 
SKILLS:
1. The incumbent must have previous experience in Capital markets risk management with specific knowledge of Internal Models Methodology as well as the Standardized Approach for computing CCR. Understanding of BASEL II/III regulatory requirements as well as emerging regulatory requirements would be an asset.

2. The incumbent must be self-starting, results-oriented, and highly motivated individual with very good analytical skills in order to apply this knowledge to assist in the resolution of complex business problems.

3. The incumbent must possess very good interpersonal and communication skills in order to effectively work with end users and members of a project team. The incumbent is expected to use diplomacy, judgement, and persuasion to secure agreement and co-operation from departments involved in a project.

4. The incumbent must also possess a good understanding of current IT practices, systems development techniques, including requirements specification and testing methodologies, real-time analytical and formal modelling tools, and keep current with rapidly changing technology to effectively apply technology to the solution of a business problem. This knowledge should be also applied to assist the Director or Sr. Manager in establishing future technological directions for the area.

5. Experience with SQL, Unix and IBM/Algorithmics risk solutions - preferred
EDUCATIONAL REQUIREMENTS:
A recognized under-graduate degree in business, econometrics, mathematics or a related discipline, along with at least 5 years of relevant experience is required
Job code: RMIT
Scotiabank is an equal opportunity employer and welcomes applications from all interested parties. We thank you for your interest, however, only those candidates selected for an interview will be contacted. No agencies please.
Apply Now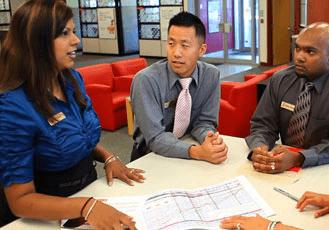 Amazing
career
stories
begin
at
Scotiabank.
Learn More