Job
Details
Information Technology Jobs
Apply Now
Lead Data Specialist (Data Architecture/Modelling/Design; Stratford-based)
Job ID 73424
Date 04/21/2017
Stratford, Canada

Join the Global Community of Scotiabankers to help customers become financially better off. 

A Best Workplace

Scotiabank is a premier financial institution and Canada's most international bank recognized as a Best Workplace®, in Canada, Mexico, El Salvador, Costa Rica, Puerto Rico, Dominican Republic, Panama, Peru, Chile and Latin America by the Great Place to Work® Institute.

A multinational winning team
Scotiabank is Canada's international bank and a leading financial services provider in North America, Latin America, the Caribbean and Central America, and parts of Asia.  We are dedicated to helping our 21 million customers become better off through a broad range of advice, products and services, including personal and commercial banking, wealth management, corporate and investment banking.

Corporate Social Responsibility
Scotiabank helps to build bright futures worldwide through ethical banking practices, environmental awareness and a commitment to communities.
By working together, we build strong relationships and create value for our customers. Scotiabank's Information Technology and Solutions provides global technology solutions support to each of our core businesses - Domestic Banking, International Banking, Global Banking & Markets and Global Wealth & Insurance. Our technology-based solutions enable Scotiabank to achieve sustained profitable growth and a competitive advantage.
JOB SUMMARY:
Reporting to the Senior Manager, the Lead Data Specialist is a member of Scotiabank's Data Architecture Services (DAS) team, which manages the collective data asset for the Canadian Bank.  This is done by developing and promoting the following overall objectives:
• Strategies, roadmaps, architectural guidelines, standards and best practices for the evolving enterprise information management practice
• Data governance, standards, criteria and practices
• Best practices and tools to support project teams (to increase the quality of their data oriented deliverables and to reduce the costs in delivering them)
• Reusable technology, process and architecture components
• Data storage and data movement solution designs
• Education on data practices and communication of the progress of these practices and the value they provide to the organization
Design
Design and implement the most appropriate data storage, data movement and data integration solutions to meet immediate requirements of individual projects while supporting the long term direction of the enterprise.  In each situation they may use a different set of tools, skills and perspective to understand the requirements and structure the solution for the specific situation. To accomplish this, DAS resources must have broad data skills, knowledge and experience.
Data Modelling
Responsibilities include developing, managing, and updating data models, including physical and logical data models of the various data storage platforms including operational databases, data warehouses, data marts, staging areas, operational data stores and the Enterprise Data Lake. Other outputs include data flow diagrams and mappings between source and target systems. The data model designs must account for the different ways the data will be provisioned, accessed and used, and reflect the business lifecycle of the data. A key requirement is to understand the business use of the data and capture and communicate that through the models.
Data Architecture
Design the use and flow of data between systems; through service calls, data federation, replication, data access, evaluation of the criteria for performance to align with the appropriate data tools and technology for the job, technology infrastructure to support the data and business service level (SLA) requirements (for all parties and perspectives), and ensuring solution optimizes technical and business requirements.
Works mainly in Stratford, Ontario (10 Wright Boulevard) with travel a few times per month to Scarborough, Ontario (Warden Avenue & Eglinton Avenue East area).
KEY ACCOUNTABILITIES:
• Oversee the development of conceptual, logical and physical data models for the operational and analytical databases
• Work with business users and system owners to capture data requirements
• Work closely with the technical and application architects, and developers to implement the solution architecture
• Communicate physical database designs to, and work with, database administrator to implement databases
• Document data flows, identify appropriate data sources and manage redundancy
• Manage data integrity and data quality
• Design data structures and document data meanings, definitions and intended use, work with various departments/leaders and data stewards to make the "metadata" available
• Define and document the data architecture for operational databases, reporting and provisioning platforms, including the physical components and their functionality
• Support data strategies, standards, guidelines data quality process and governance across the enterprise
• Promote the goals of data integration, data stewardship, data quality and governance
• Provide recommendations into the selection, use and positioning of hardware, storage, and software products to support data architecture requirements
• Provide leadership in researching and architecting emerging technology solutions to meet business objectives
KNOWLEDGE & SKILLS:
• Must have hands-on technical working experience with relational and dimensional data modelling and database design.
• Must have worked with data –either as a provider (e.g. DBA) or data analyst (able to query complex data logic).
• Must have the ability to translate business needs into technical solutions.
• Possess domain knowledge in financial services platforms and enterprise functions.
• Must have technical working knowledge of database administration, database performance tuning, source & target data structures, ETL processes & products.
• Must have technical working knowledge of data architectural approaches & patterns.
• Demonstrated exposure to & working experience in assessing and introducing emerging technologies.
• Demonstrated experience creating architecture roadmaps and strategy documentation.
• Is comfortable in getting started without complete information, with changing requirements and constraints, working with these conditions to help drive to conclusion rather than waiting for them to be resolved.
• Possess the ability to work collaboratively with other architects.
• Possess the ability to see the "bigger picture".
EDUCATIONAL REQUIREMENTS:
Completion of a post-secondary education.
Scotiabank is an equal opportunity employer and welcomes applications from all interested parties. We thank you for your interest, however, only those candidates selected for an interview will be contacted. No agencies please.
Apply Now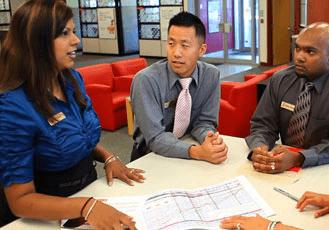 Amazing
career
stories
begin
at
Scotiabank.
Learn More