Job
Details
Digital Factory Jobs
Apply Now
Release Manager
Job ID 75738
Date 05/11/2017
Scarborough, Canada

Join the Global Community of Scotiabankers to help customers become financially better off. 

A Best Workplace

Scotiabank is a premier financial institution and Canada's most international bank recognized as a Best Workplace®, in Canada, Mexico, El Salvador, Costa Rica, Puerto Rico, Dominican Republic, Panama, Peru, Chile and Latin America by the Great Place to Work® Institute. 

A multinational winning team 
Scotiabank is Canada's international bank and a leading financial services provider in North America, Latin America, the Caribbean and Central America, and parts of Asia.  We are dedicated to helping our 21 million customers become better off through a broad range of advice, products and services, including personal and commercial banking, wealth management, corporate and investment banking.

Corporate Social Responsibility
Scotiabank helps to build bright futures worldwide through ethical banking practices, environmental awareness and a commitment to communities.
Overview of the role


As a Technical Release Manager, you will be the bridge between our release management team and all the external and internal project & support teams, responsible for delivering exciting projects in the Digital Banking Engineering Organization. We are investing heavily in order to become the leader in the digital banking space, and we are launching multiple initiatives to do so. You will have a unique chance to help one of the fastest-growing business units become a leader. You will help scale, enable, and drive development excellence as our team continues to deliver innovative solutions to Scotia customers. 



What you'll do
•Lead technical release planning sessions that involve multiple project teams delivering changes to multiple digital platforms (5+) that have interdependencies
•Define and design the overall release management and environment allocation strategy
•Owns the release management, works closely with other engineering departments on production releases and facilitates resolution on impacts on various projects/enhancements 
•Lead and ensure that project teams meet various technical quality gates in our entire delivery pipeline
•Independently investigate ad-hoc issues, propose different options, and drive issue resolution
•Effectively communicate release status and appropriately escalate impediments/risks
•Coordinate and run planned and unplanned production implementation
•Facilitate problem-solving discussions and general communications between the release management team and other teams such as business, infrastructure, support, and development
•Help improve and drive our release practices by providing valuable inputs and suggestions as to what works well and what can be done better
•Contribute to a collaborative team environment by information sharing and team cooperation
•Demonstrate strong personal values and a commitment to our mission and customers

Are you the right person for this role?

•Experienced. You have 8+ years of experience involving in technical project management in an IT organization. You are familiar with traditional waterfall and agile SDLC involving Continuous Integration and Continuous Delivery.
•Engineer. Ideally, you have an Engineering or Computer Science degree, and pride yourself on analysis, logical thinking and problem solving skills.
•Observant. You anticipate potential problems in all aspects and will proactively create mitigation plans based on day to day communication & observations.
•Self - Motivated. You do good work, and lots of it …the drive to deliver quality work is just a part of you. You are also able to simplify complex situations and navigate ambiguity.
•Communicator/Negotiator. You are great at making sure everyone's speaking the same language and are on the same page, and sometimes that involves some give and take. 
•Multi-tasker. You are able to multi-task and work on multiple initiatives at the same time.
•Learning is breathing. You stay current on the tools and approaches that work best. And you are excited about working on new release because every release is a new learning opportunity!
•Team Player. You enjoy collaborating with, learning from, and teaching others so we all become better.

•Business Casual Attire
•Flexible Working Hours
•Work as part of a team which encourages both individual and collaborative innovations
•Shuttle service to other Scotia offices and local malls (Scarborough locations only)
•Close to GO bus, subway RT and major highways
•Please note that this role requires over time work 

As Canada's international bank, we are a leader when it comes to inclusion. Scotiabankers hail from over 120 countries, speak more than 100 languages and serve over 23 million customers globally. As a highly diverse company, we know that an inclusive environment for employees and customers helps everyone achieve their best. We value the unique skills and experiences each individual brings to the bank, and are committed to creating and maintaining an inclusive and accessible environment for everyone. Candidates selected for an interview will be contacted directly.  If you require accommodation during the recruitment and selection process, please let us know. We will work with you to provide a positive recruitment experience.
Apply Now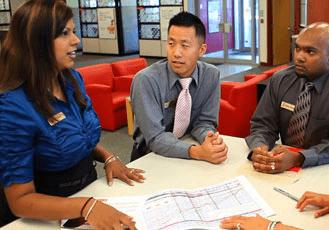 Amazing
career
stories
begin
at
Scotiabank.
Learn More